How to save diagnostic data for support
Note: This feature is available on Nodegrid OS v4.x and newer.





Log into WebUI as admin
Go to System :: Toolkit then click on Diagnostic Data
Go to System :: Toolkit then click on

File Manager button located just to the right of the device console button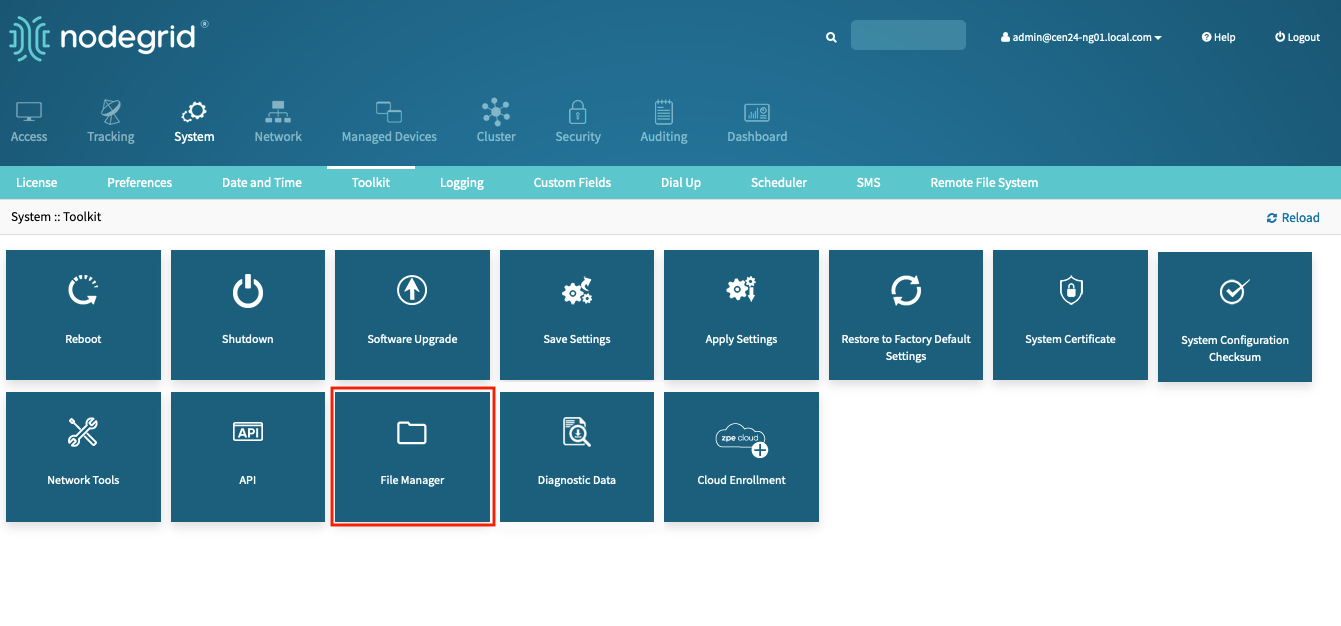 Click on the admin_home folder

Check the file and click download
Send file in email to support via email or uploading through the Support Portal!
Related Articles

How to save Diagnostic Data through CLI and Shell

Note: This feature is available on Nodegrid OS v4.x and newer. Diagnostic Data can be generated via CLI in Nodegrid 1. Login as admin and type this commands cd /system/toolkit diagnostic_data finish The data will be stored in ...

How to setup Data Logging for one or more Devices to save data locally

Data logs capture all information send to a device and coming from a device. You can choose to store the logs locally or remotely. Configuration via WebUI: 1. Login as admin and navigate to Managed Devices 2. Select the target device and go to ...

IPSec VPN support

Version 0.1 (02 May 2018) Virtual Private Network (VPN) Overview A Virtual Private Network (VPN) is used to provide a secure means of communication among remote computers across networks, such as the Internet or a public WAN in general. VPN creates ...

Exploring Data Points

This section will describe how you can verify that we are actually persisting the data collected and to learn more about the data being collected. This knowledge will be helpful in the Creating a Visualization article. First, make sure that you have ...

How to Save and Restore backup configuration from/to Nodegrid

To Save the current configuration of your Nodegrid, follow the steps below: WebUI 1. Go to System, Toolkit, and click on Save Settings icon. 2. Select the option where you want to save the configuration: a. Local System: enter the file name ...