The tables below show the serial port pinout information of the NSC TxxR (Cisco Pinout) and NSC Txx (Cyclades Pinout)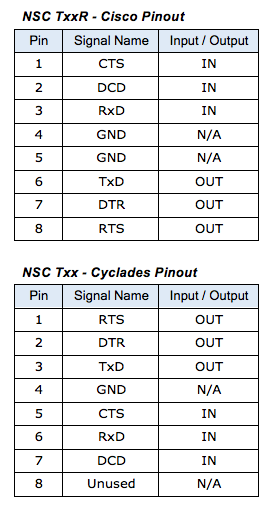 The cabling and adapters that you may need to use between the NSC serial ports and the serial devices' console port will depend on their pinouts.
Latest serial devices such as routers, switches, and servers will have either a DB9 port or an RJ45 port as their console ports. See the manufacturer's manual of your serial device console port pinout. If RJ45, then most likely it will be a Cisco-like pinout.
Refer to the link below for the cabling you need to use with your NSC TxxR and NSC TXX serial ports and Serial Devices' console port:
https://www.zpesystems.com/products/data-center-solutions/serial-consoles/cabling-adapter-usage/

If the Serial Device's RJ45 does not have the Cisco-like pinout, or if you have any questions on connecting your serial device to the NSC, please contact ZPE Systems Technical Support for assistance.