Installing Firmware for the LTE Modem (Sierra EM7565).

Note: If cellular connectivity with the current SIM(s) and firmware provides reliable connectivity, there is no need to update the firmware.

The modem installed in our Nodegrid SR product line is the Sierra EM7565 modem. The link to download the firmware is provided below: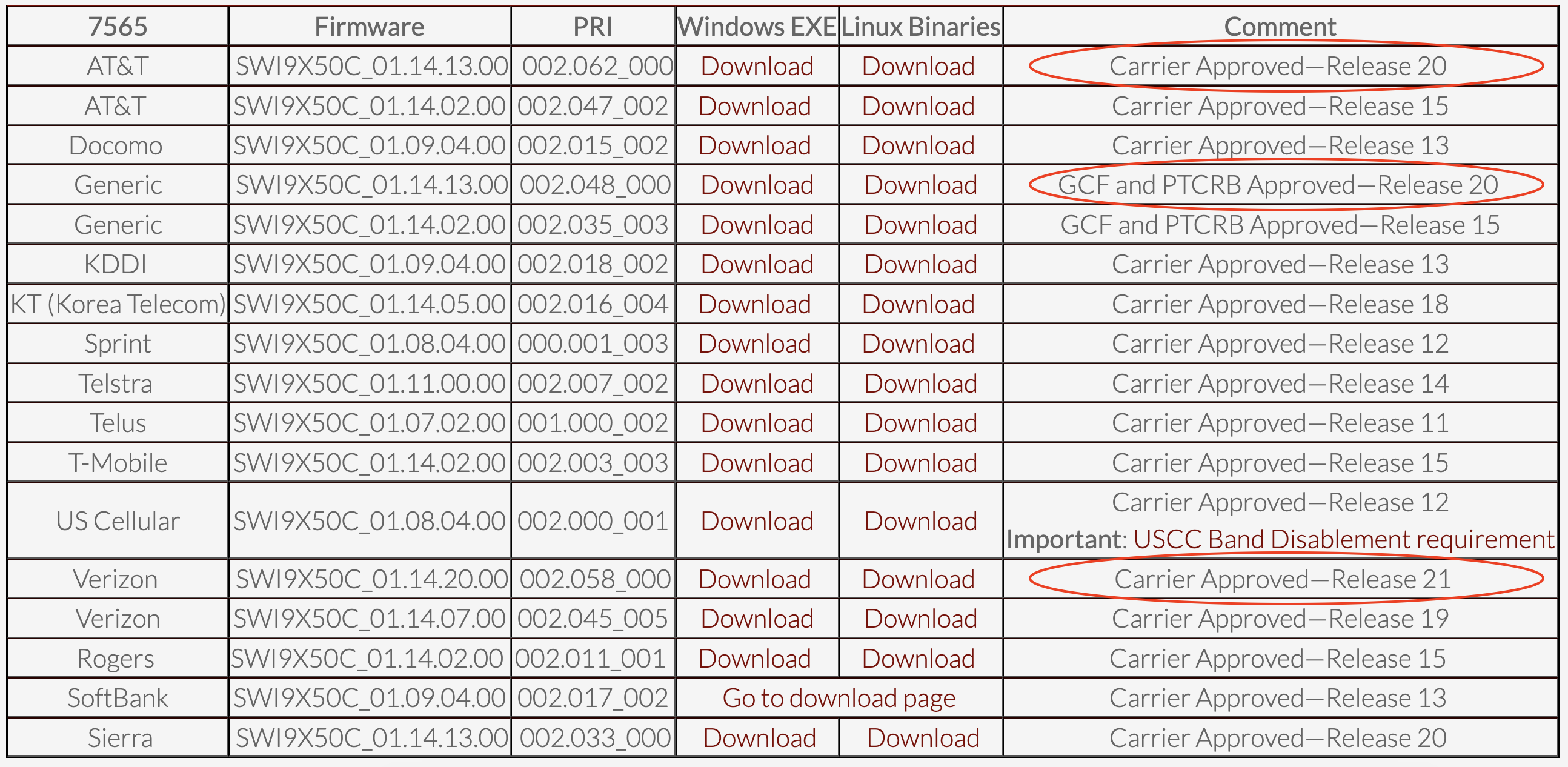 The commonly used carrier firmware has been circled (AT&T, Verizon, and GENERIC). These files are also available in the
ZPE's Sharefile
(requires credentials).
The modem card can only carry 4 firmware files at a time, so it's best to only upload the ones that you know you will need/use. Our Nodegrid has 2 SIM slots per modem. The GENERIC driver works for most carriers, including T-Mobile, but as a precaution, we advise that you load the Nodegrid with additional firmware for future SIM changes. We want to save you the trouble or headaches in the future.

A) To upload these firmware via UI, log onto your Nodegrid's management portal and click on "Wireless Modem" (Network::Wireless Modem). Place a check next to the modem interface "Channel-A" and then the "Firmware" button will become active. Click on the "Firmware" button.
Once you click on the "Firmware" button, the window below will appear. Click on "Upgrade" and this will now open another window, which will now allow you to upload a firmware of choice.

Click on "Choose File" button below and navigate to the firmware that you had just downloaded in your laptop/PC. After you select it, click on the "Upgrade" button. This will upload and save the firmware to modem. Repeat this step for all other firmware that you need to upload.
Once the modem detects the carrier on the SIM card, it will load the correspondent firmware.

B) To upload these firmware via CLI:

1. first, transfer the Sierra Wireless.zip file to Nodegrid under /var/sw/ folder (you can use WinSCP from Windows or SCP command from Linux / Mac OS).

2. Then, access Nodegrid as admin (or user with admin permission), and type the commands below (with example of a Verizon file and modem on Channel A):

cd /settings/wireless_modem/global/Channel-A/firmware/
set file_location=local_system
set
filename=SWI9X50C_01.14.20.00_VERIZON_002.058_000.zip
upgrade

3. once the upgrade is complete, the modem will reboot, and should come up after a minute or so.

4. you can check the version by typing the following at the shell prompt:

mmcli -L

mmcli -m x (where x is the number for the Modem)

Example:

root@nodegrid:~# mmcli -L
/org/freedesktop/ModemManager1/Modem/0 [Sierra Wireless, Incorporated] EM7565
root@nodegrid:~# mmcli -m 0
----------------------------------
General | path: /org/freedesktop/ModemManager1/Modem/0
| device id: 34a77695517cf7c9a1c3f291c1f9087a7bc2ee20
----------------------------------
Hardware | manufacturer: Sierra Wireless, Incorporated
| model: EM7565
| firmware revision: SWI9X50C_01.24.20.00 6c91bc jenkins 2018/06/13 23:08:16
| carrier config: default
| h/w revision: 10001
| supported: gsm-umts, lte
| current: gsm-umts, lte
| equipment id: 359260080499442
----------------------------------