Assuming that you have already configured your LTE connection (
How to: Configure a LTE/GSM Network Connection
), it's most likely that you don't want it to be online/active, as it may incur unnecessary charges. For this reason, we will be configuring the Nodegrids to only use LTE for failover access. To do this, please follow the instructions below:
1. Log into your Nodegrid's GUI as admin

2. Go to Network::Settings page.

3. Check
Enable Network Failover
checkbox field.
4. Select your current primary connection (by default "ETH0" is the primary connection, unless it was changed under Network::Connections::<Connection name> page.
5. Select your secondary connection (for this use case scenario, it will be the LTE connection that you had previously created).
6. Configuring the Number of failed retries to failover,
Number of successful retries to recover and the Interval between retries is recommended for LTE.
7. Optional: You can set a condition to trigger the failover when, for example, your device can't reach its default gateway or an IP address over the internet.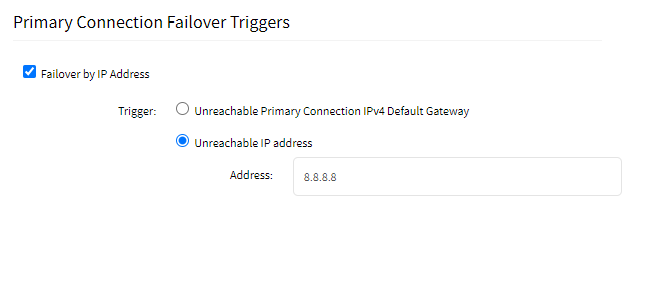 8. Optional: You cat set a Third Level Network Failover. Check the "Enable Third Level Network Failover" option. The parameters are the same used in step 6 and 7.

9. Click to
Save
.
You are now all setup and Failover is now active.
Note: the cellular connection may have a different name from the image, but it will be the name that you had specified when you created this connection.